body,td,th { font-family: Raleway, sans-serif; color: #00000; } body { background-color: #ffffff; }
RealCareer Geriatric Training
Virtual Know How is the Australian distributor for RealCare and RealCareer Simulators and Models servicing Australian Teachers and Educational Professionals only.
With our Geriatric Simulators and models participants learn how to provide care for older adults while developing empathy and understanding.
Participants will come away with a greater understanding of the entire life span as a result of these measurable and memorable learning experience.
Scroll down the page or click the link below
NEW in 2018 - RealCareer Geriatric Experience Simulator (Special Introductory Price expires October 17)
Give nursing and health occupations students an unforgettable lesson in patient care with the RealCareer™ Geriatric Simulator.
Designed for secondary and post-secondary education programs, the Geriatric Simulator allows users to experience a variety of age-related physical challenges. The included curriculum enables educators to facilitate discussions on ageing, care for the elderly and the physical effects of aging on the body. Geriatric sensitivity is key for success in elder care careers. Use the RealCare™ Geriatric Simulator and curriculum to help nursing and CNA training program participants succeed in geriatric health care careers.
The Geriatric Simulator enables users to experience:
Restricted range of motion
Decreased mobility
Stooped posture
Loss of sensation in hands
Joint stiffness
Loss of strength
Fatigue
Change in body image
Decreased sense of balance
Confusion
Visual impairment
---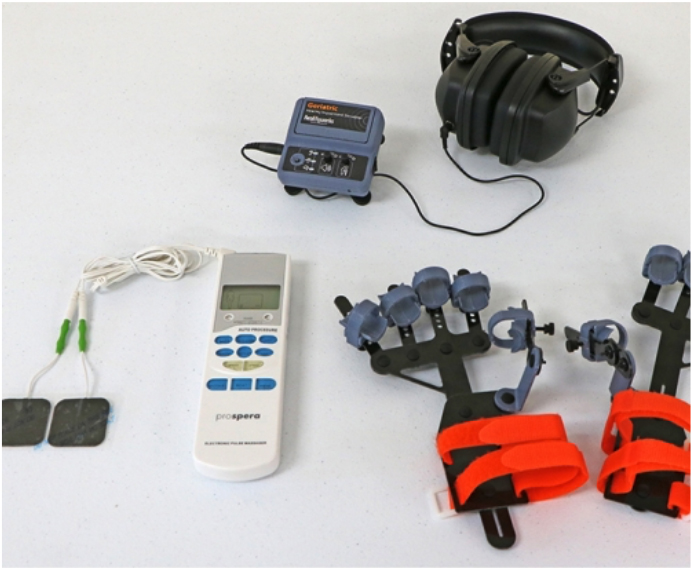 Back to the top
NEW in 2018 - RealCareer Geriatric Sensory Impairment Kit
Wearable components providing users with age-related sensory changes to help with understanding common aging changes.
The Geriatric Sensory Impairment Kit enables users to experience:
Hearing Impairment: headphones to experience tinnitus, high frequency hearing loss, general hearing and dementia hearing ailments
Geriatric Arthritis: wearable for each hand providing realistic arthritic conditions
Geriatric Tremor: simulator that provides a realistic experience of hand tremor conditions
---
NEW in 2018 - Geriatric Nursing Manikin
Practice over 15 basic nursing functions.
Designed for various nursing courses to teach clinical nursing and patient care skills, this hands-on, comprehensive learning aid is a key tool for patient care training. The Generic Nursing manikin weighs 25kgs and stands 167cm tall. Realistic joints and size make this manikin ideal for teaching basic patient skills.
Hair and face washing
Eye and ear irrigation
Oral and nasal feeding and suctioning
Trachea care and cleaning
Mouth cavity and artificial teeth care
Intramuscular and intradermal injections
Urethral catheter insertion
Colostomy care
Pressure ulcer evaluation and care
Patient transfer
handling and positioning
Range of motion exercises
Kit includes:
Life-sized Geriatric Nursing Manikin
Interchangeable genitalia
Interchangeable female/male chest inserts
Stages 1 through 4 pressure ulcers
Pajamas
Curriculum
Carrying/storage bag
---
NEW in 2018 - Geriatric Skin Conditions Kit
Give your students real-world experience assessing 9 common skin conditions
that may occur on aging skin with the Geriatric Skin Conditions Kit. This one-of-a-kind kit features 9 realistic models of common geriatric skin conditions. They can be adhered to human or manikin skin and feature detailed tissue that can be examined. This ready-to-use kit is a designed to enhance nursing training and patient care programs.
9 geriatric skin condition models:
Shingles
benign and cancerous lesions
bruise
burn
thinned skin
age spots
eczema
dry skin
lesion
Package includes:
---
NEW in 2018 - Decubitus Ulcer Simulation Kit
Six large life-like models used to teach the stages of the birth process.

Create real-world situations in which students can practice diagnosing, cleaning and dressing Stage 1 through Stage 4 pressure ulcers.

The Stages 1 through 4 pressure ulcers in this kit are pliable and lifelike, with the ability to be placed on human or manikin skin. They feature tissue degradation and can even have purulent discharge.

. Package includes:
Stage 1 through 4 pressure ulcers and heel wound pressure ulcer
Available in light and dark skin tones
Adhesion gel (wound bond)
Purulent discharge (pus)
Curriculum
---
Ways to find out more